18/07/21
Time has become even more valuable since the pandemic. Before it I was allowed to visit my mother, a resident of the Christadelphian Care Home in Bannockburn, Stirling, as often and for as long as we both wanted. However, at the start of the pandemic, I was not allowed to spend any time at the home whatsoever. Now I am allowed to take one member of my household for a one hour visit in her room once a week. This time slot must be booked on an on-line appointment system. This makes the time incredibly special and must be carefully planned.

Recently, my daughter and I mapped out our expedition to Bannockburn. We agreed on the time to get up in the morning, then the time to leave the house, the trains have an hourly frequency whereas before they ran every half hour. We needed to catch a bus at Stirling bus station to continue the journey. Our plans were executed beautifully until we stopped for a snack and missed the bus by seconds. I was filled with panic that we were going to be late. I looked at my "bus app" and realised that the next bus was not due for some time and had a more meandering route than the one missed. We would be extremely late, and I did not want to disappoint mum or put the staff out by arriving after our agreed time.

Plan B, get a taxi to complete the journey. It is more expensive but much faster. We ran to the taxi rank nearby. The drivers were standing by their parked cars gassing, blethering, chewing the fat (engaged in idle chit chat). I sensed a frustration in myself as I wanted to finish my journey and be as close to on time as possible, but these drivers appeared in no hurry to start work. After a minute or so, which felt even longer to me, the driver of the first taxi in the rank walked to his car and we got into the back. Before we could let him know where we were heading a woman walked past the rank. Our driver called out to her "Aunty Mary". They then began a conversation as if we were not there. We could not help but overhear that she had moved home during the pandemic, and it appeared they had lost touch with each other. I desperately wanted to interject that we were in a hurry to make our appointment time. I never did as I was being too British. Then I him heard give her his news that shocked me like an icicle down the spine. He told her that "he had the big C" a euphemism for cancer. This driver was a man who urgently needed love and support. I realised my frustrations and focus were all wrong.

So we do not focus on what is seen, but on what is unseen. For what is seen is temporary, but what is unseen is eternal.
2 Corinthians 4:18


We went on to have a lovely hour with Mum, with my timely lesson learned.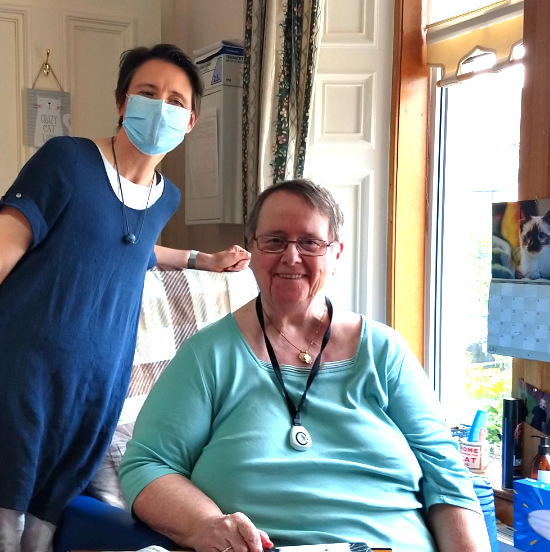 KS

04/07/21
Soon after I came to Edinburgh I found myself with a free day. I still had my own car so I set off towards the West. Eventually I found myself on the brow of a hill near the West Highland Way overlooking Loch Lomond. There was a lonely phone box and I thought I would use it to surprise someone in Yorkshire. The snag was that I had no phone list with me and, having no memory for numbers, I found it difficult even to remember my sister's number.

It seems that most people are either numerate or literate. It must be good to have both gifts.

At Sunday school we had to learn proofs. I can still remember that my very first one was on a sticker showing lilies. It said 'Consider the lilies!' When I was a bit older I learned 'Remember thy creator in the days of thy youth while the evil days come not nor the years draw nigh when thou shalt say I have no pleasure in them'. We were expected to recite chapter and verse but I could only remember that it is Ecclesiastes. The important thing is to do as instructed.

I knew a brother who admitted that he didn't know the words of a single hymn. Why didn't I ask him what kind of things he
did
remember? Thinking about these things makes me a bit more sympathetic to those who busy themselves with working out such things as the date of the Lord's return to the earth. They are probably more numerate than literate and enjoy manipulating figures.

I can't remember the number of a single hymn. I love the traditional hymns that we have in the green book and don't have any problem with the archaic language. I find an exhortation in almost every one. A hymn that has helped me during the Pandemic is

'Here O my Lord, I see thee face to face'.

One of the verses says

'I have no arm but thine to lean upon'.

Many-a-time, even when using a walker, I have needed an arm to steady me but we are not allowed to touch.

So I ask the numerate people what form their meditation takes. Have they got a mind well-stocked with thoughts and memories which help them when they are alone and in the dark?

MMcG